HOW TO SUBSCRIBE, LEAVE A RATING & WRITE A REVIEW FROM YOUR IPHONE
1. On your iOS mobile device, launch Apple's Podcast app.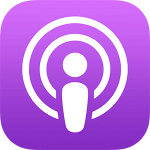 2. Tap the Search tab in the lower right corner of the screen.
3. Type in Susan Drumm or Enlightened Exec in the Search bar at the top. Then tap the blue Search key at the bottom right, or tap the podcast name in the drop-down list.
4. Tap the album art for the podcast.
5. On the next screen, tap the purple Subscribe button.
6. Scroll down to Ratings & Reviews at the bottom of the page.
7. Tap the Stars to leave a rating.
8. Scroll down a little bit more to tap on Write a Review.
9. If you're not already signed into iTunes, you will be asked to enter your iTunes password to login.
10. Type in a Title and a short Review message.
11. Tap Send. Thank you for your support!
Subscribe in your favorite podcast app
Learn groundbreaking techniques and strategies to get the edge and enhance your personal and leadership effectiveness with these candid, conversational, and in-depth interviews hosted by Susan Drumm.